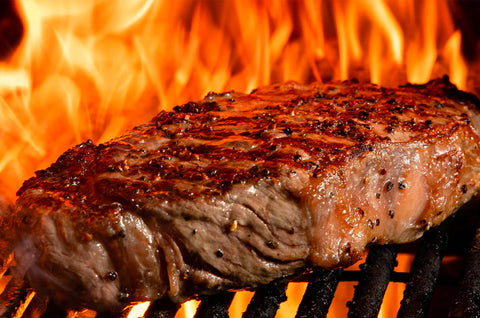 About Your Steak
Steaks are cut fresh to frozen. Shelf life of frozen steaks is 1 year from pack date. Steaks are vacuum sealed in oxygen barrier Cryovac to hold freshness and extend shelf life. Any discoloring is only temporary. Color will return 10-15 minutes after opening.
Cooking Instructions
Preheat oven to 425° F
Remove steak from the cryovac package and pat dry using a paper towel. Season top and bottom with kosher salt and cracked black pepper (or steak rub) and set aside.
Using an 8-12 inch oven-safe sauté pan with a heavy bottom or a cast iron pan, heat 2 tbsp of vegetable oil over medium/ high until oil is glistening and lightly smoking. Add steak to pan flat side down and sear on each side to ensure even coloring.
Place entire pan into the preheated oven and cook to desired temperature. This can be achieved by using a probe thermometer inserted directly in the center of the steak

RARE: 115° F
MEDIUM RARE: 125° F
MEDIUM: 135° F
MEDIUM WELL: 145° F
WELL DONE: 155° F

Rest the steaks for 2-3 min before serving and add sea salt (or steak rub) on top just before serving.