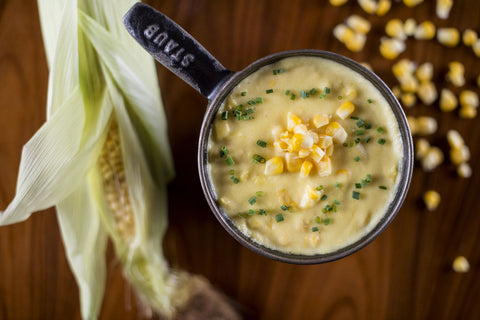 Makes 4 Servings
Ingredients:
¼ cup

 

unsalted butter

4 cups

 

fresh corn kernels

Salt, to taste

White pepper, to taste

½ cup

 

half and half

½ cup

 

milk

1 Tbsp

 

fine corn meal

1 Tbsp

 

sugar

2

 

pieces chives, finely chopped
Instructions:
Melt butter in a small sauté pan on low heat. Do not brown the butter.

Sauté 2 cups of fresh corn kernels in the butter, until the corn in soft with no added color. Season with salt and white pepper to your liking.

In a small sauce pan, bring the half and half to a simmer on a low flame.

Once simmering, add the sautéed corn to the half and half. Cook on a low flame until the mixture starts to boil. It should take about 5 minutes.

While the mixture is cooking, take 2 cups of the remaining corn and the ½ cup of milk, placing both ingredients in a blender. Blend until a smooth purée develops.

Once the corn mixture has come to a boil, add in the corn purée, fine corn meal, and sugar, whisking the mixture until it is thick and the corn meal has dissolved. This step should take around 5 minutes.

Adjust the seasoning (if you like it more salty or peppery).

Garnish with finely chopped chives on top.